How do you choose the best laptop for blogging, and why should you opt for a laptop, and not a desktop?
First off, a laptop is ideal because it's the most vital weapon in a blogger's arsenal. It's versatile, and alluringly symbolic, too, because it represents freedom. It fits the lifestyle most bloggers love – an untethered life. It's a mobile office that's filled with the key resources you need. You can literally work anywhere if you have a good laptop.
A desktop, no matter how captivating, sturdy, and powerful will keep you chained to one spot. That's the exact opposite to what bloggers crave, right? If you ask me, that would feel a bit like being in prison. On the other hand, a laptop goes wherever you want to go. It's a tool you'd use for about four years, and you'd spend a substantial amount to buy a good one.
How Do You Choose the Best Laptop for Blogging?
So, choosing the right one is an important decision. And, truth be told, making a choice is not easy, because there are so many models to choose from. How do you go about it? Keep reading, and we'll unravel the mystery in this post. Let's get started by looking at the key criteria you'd use for your choice. We'd also look at why each criterion is important.
Then, we'll explore a few top models you could choose from. It w0uld make sense that the laptop that will be appropriate for you will depend on the type of blogging you do, right? In fact, this is a key factor to consider. Seeing as blogging is not just about writing text, but really about content development. And content is multimedia. What kind of content are you developing or would you be developing?
Let's dive in.
Best Laptop for Blogging: 10 Factors to consider
The Nature of the Blogging
Your Budget
The CPU
Screen quality
The Size
Keyboard quality
The RAM
The Operating System
Storage
The Battery Life
The Nature of the Blogging
If your work consists mainly of text, you don't need a model that's exceptional. An average laptop will do just fine. Unless you're thinking of doing more hard stuff in the near future. But, if your work involves audio editing, video editing, photo editing, gaming – you'd need to be more selective.
Naturally, if you are a blogger who reviews video products, games, movies, websites, code snippets, and plugins, for example, you'd need a laptop that's more powerful than what a blogger who writes text-based reviews of books needs.
So, the technical specifications and cost are not the only factors to consider. What you'd be using the laptop for now, and in the next 4 years (the average lifespan of a laptop) is what you need to clarify first. This requires that you think of what your work entails and would entail in the near future. The laptop needs to be able to serve you well now, and even when the nature of your work changes to tasks that'd require more computing resources.
Your Budget
Just like most products, there are cheap, median, and high-end laptop prices. The good news is that there's something for everyone. But, as you know value and price are almost always positively correlated. So, if you want a really beautiful and powerful laptop, be prepared to shell out a lot more moolah. $700 – $2500 is a good range to consider.
The CPU
The central processing unit of your laptop is its master workaholic and the most vital component. The CPU is the component that "multitasks." It's the brain of your laptop. It can perform billions of arithmetic and logical operations in a second. In a way, the other parts of the laptop are the CPU's "servants." There are components it sends to fetch, to store, and to display text and images. Go for laptops with Intel Core processors. They're the Holy Grail of processors.
You can't go wrong with them. Naturally, they also lie on a spectrum – 13, 15, 17, 19 in increasing order of performance. Fifteen is ideal for most users. If you want extra power, then 17 or 19 is what you should go for. But, with great performance, comes great heat. So, you need to be careful of placing laptops with processors 17 or 19 on your lap, or on a bed.
Screen Quality
While blogging, your eyes will be glued to the screen for hours. It's not uncommon to find bloggers who spend 10 hours each day working. (You don't have to, of course.)
So, the quality of the screen is very important. Many recent models have touchscreens, which are cool when you want to take a break from typing, but touchscreens, as we all know, are smooth and glossy, and they reflect light. Ideally, you'd want to avoid such models or deactivate the touchscreen function.
You need a laptop with a high resolution because this is what affects the display. What you see on a laptop is made up of pixels – these are tiny dots. More pixels mean that you'd be able to see better. We advise you stick to laptops with at least 1920 x 1080 resolution. The higher, the better. But, know that resolutions higher than this will consume a ton of battery power.
In checking the screen's quality, the brightness is one of the factors to consider. And it's measured in Nits. A laptop with Nits of 250 is good enough. Naturally, you'd have a better experience if the display is bright.
The Size
One unique point about laptops is their portability. They vary in sizes, so, you'd be smart to opt for something powerful yet lightweight. Travel laptops are very convenient. No one wants a burden, right? And unlike other parts that you can easily upgrade, you can't upgrade the size. You're stuck with it. Slim and light – that's what you're looking for.
Keyboard Quality
You need a laptop with a simple, "traditional," and spacious keyboard, not one that has all the keys in the world. A backlit keyboard is ideal so that you can work with ease in dim or dark places.
RAM
The RAM (random access memory) enables you to find information quickly, so, it is vital. People are no longer satisfied with a 4G RAM. Now, 8G is the minimum you should consider. Of course, power users would rather go for 16G. If you'd be reviewing games or video editing, audio, and images on your blog, it'd be wise to go for 32G.
Luckily, RAM can be upgraded. The higher the RAM, the higher the speed at which you'll access files because it doubles as temporary storage, files in current use are stored in it and are erased after use.
Operating System
The operating system is the most important component of your laptop. It's its "chief coordinator" that determines how resources are utilized. It's the interface between you and your laptop's resources. Without it, you'd not be able to use the laptop. It manages key resources such as the CPU, printers, the RAM, the disk drives.
There are about 10 different types of Operating systems (OS), but 3 are the most popular. Those are:
Windows (Microsoft)
OS X (Apple)
Linux
Each has its pros and cons, which we won't get into in this post. Truth be told, a lot of work can be done in the browser, so, depending on the nature of the blogging you need, you may simply opt for a Chromebook. They're highly affordable. The price ranges from $200 – $1000.
Storage
The apps, programs, and documents on your laptop need to be saved, and this depends on the capacity of the storage. There are about four storage types:
Hard Disc Drive
Solid State Drive
Solid state Hybrid Drive
Embedded Multi-Media Card
The most common is the HDD, and it has the largest capacity. If you have a lot to store, then, this is ideal, and you can get drives with 1 TB. Solid state drives are faster in terms of performance but do not have as much storage capacity.
Battery Life
Your workday may require being outside of your home or office. In the case of digital nomads who travel from continent to continent, ensuring that there is enough power on a laptop is a key consideration. Ideally, you'd opt for a laptop whose battery life extends to at least 9 hours. Some models have batteries that can last for 13 hours. Isn't that awesome?
There are many great laptops in the market. But, let's be specific, we'll look at 6 top models you can choose from. No one size fits all. You can determine which model is right for you based on the 10 factors we've identified above.
5 Best Laptops for Blogging
So, let's get started.
1. Dell XPS 13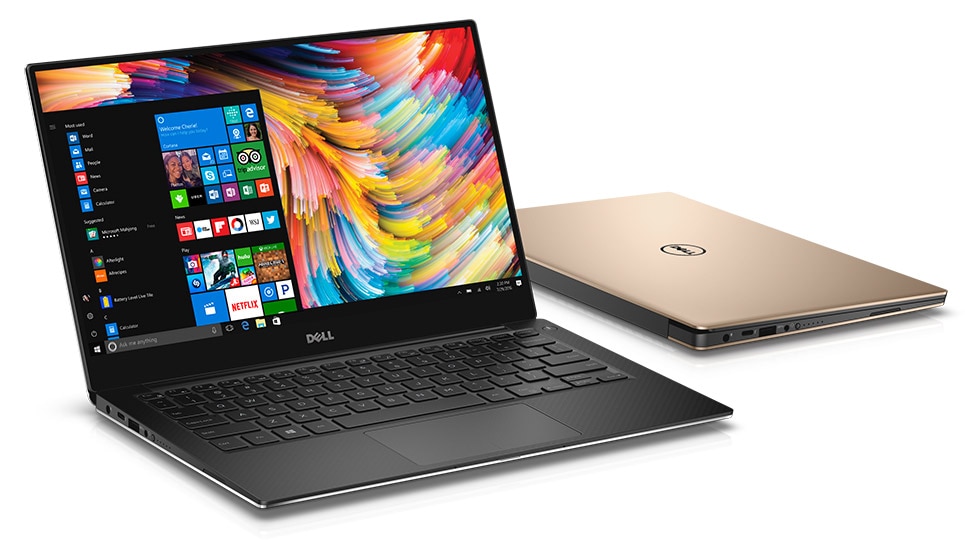 Dell XPS 13 is our top choice. Why? It's more than adequate for what a serious blogger needs. It performs very well and has a long battery life. Plus, it's light (2.7 pounds). The key factor for its exceptional performance is its 8th generation Intel processor (which deliver 44 percent improved performance relative to 7th gen processors). This new processor allows you to multitask (work on may applications at the same time) with ease.
You can see that it's gorgeous. It has a sleek, classy look. And did you notice anything unique about its screen? Well, that's Dell engineering at work. The top and the sides of the screen have been highly optimized so that you can see more.
You'll also see there's something special about the display. Yes, it's not your average Full HD resolution 1920 x 1080. What's here is the UltraSharp QHD+ resolution 3200 x 1800. At 400 Nits, its brightness beats that of most laptops. The images are striking. And, it has a touchscreen, for the times you'd like to interface with the screen.
Did I mention that its battery lasts 13 hours? Honestly, for the value you're getting, its price of $1,175 is highly reasonable.
The second laptop we're looking at is the Acer Aspire R 15 Convertible.
2. Acer Aspire R 15 2-in-1 (R5-571TG-7229)
It's one of the best you could choose because its performance is top-notch; it has a widescreen, 9 hours of battery life and you can change it into a tablet if you wish (that's the 2-in 1, in its name). It's a beauty to behold, as you can see from its image below.
And it has four modes: Notebook, Display, Tablet, and Tent. This is because it's a convertible. It has a special 360-degree hinge, which you can rotate to change it into what you prefer at any point in time. If you like using touchscreens, you can also leave the keyboard for a while, and feel what you're working on. Its wireless is super fast, because of Acer's patented ExoAmp antenna. And the operating system has a 64-bit architecture.
The following are its technical specifications.
Windows 10 Home
Intel® Core™ i7-7500U processor 2.70 GHz
15.6″ Full HD (1920 x 1080) 16:9 IPS
NVIDIA® GeForce® 940MX with 2 GB Dedicated Memory
12 GB, DDR4 SDRAM
256 GB SSD
Its drawbacks are it's a bit heavy, and the screen is reflective. But, on the whole, this is a good system. And it's a steal at $838.
You might be wondering if laptops using Windows OS are the only good ones. The answer is no, not at all. Our next pick is from the wonderful house of Steve Jobs.
3. MacBook Pro 13-Inch
One is almost tempted just to let the image above speak for itself. Because as you already know, Apple products are always a combination of beauty and brains. This laptop allows you to do your work at lightning speed. Its minimalism and computing are at their height. The MacBook Pro here is as powerful as the Dell we first explored, and you can easily upgrade its key components or trade-in an older Mac for about $1000 credit. It sells for $1,999.
Its processor is the new 8th generation 6 – core and quad-core, the display leverages Tone Tone technology – the display has a natural feel, and it has a touchpad and employs touch ID.
The following are some of its attributes:
Battery Life 10 hours
SSD Read Speeds 3.2 GB/S
Turbo Boost 4.8 GHz
Memory 32 GB
Screen size is 13 inches
2.3GHz dual-core Intel Core i5, Turbo Boost up to 3.6GHz
The fourth laptop we'll look at is:
4. HP Envy 15.6″ x360 2-in-1 Convertible
If you like flexibility and portability, this is a good choice. It's a lightweight laptop at 1.3kg and has a 360-degree hinge, so you can turn it all the way and use it as a Notebook or a Tablet. Its performance is top-notch. Its keyboard is highly responsive and backlit, so even if you have to work in a dark or dim place, you're good. It's audio is rara avis, seeing as B and O had a hand in the speaker installed. So, the audio quality is upscale and rich.
The laptop sells for $988.
The following are its technical specifications:
Processor 1.8 GHz
Graphics CoProcessor Intel HD Graphics 620
Card Description Integrated
Battery life 9 hours
Wireless Type 802.11a, Bluetooth 802.11bgn
Hard Drive 1 TB
RAM 8G
Screen size 15.6 inches
Screen Resolution 1920 x 1080
Let's wrap up by looking at the last laptop we'd recommend. Our budget pick is the Asus Zenbook UX331 UA.
5. Asus Zenbook UX331 UA
Remember I said there's something for every budget. This model goes for $782. Now that we've sorted out the money issue let's check out what this laptop has to offer. You probably think that because it's not as expensive as our picks above, that it'd be somewhat slow and heavy. Not at all.
It's light, ultra-slim, and powerful. And, you're covered in terms of battery power, because you can work for 11 hours without worrying. It has a touchscreen, and its keyboard is backlit. If you want a laptop that's powerful and highly affordable, this is it.
I bet you're wondering if there is something that's a bit less than ideal about the laptop. And there it is: you can't upgrade its memory, and the keyboard is not as responsive as some of us would like.
The following are its technical specifications:
Operating system Windows 10
Weight 2.5 lbs
Hard Drive 256 GB
Display Technology LED-lit
Screen Size 13.3 inches
Resolution 1020 x 1080
Processor Speed 1.6 GHz
Processor Intel 8th gen Core i5-8250U
RAM 8GB
Processor Count 4
Nits 302
Conclusion
Blogging is fun and can make quite a lot of money as well. In fact, there are bloggers like Steve Pavlina, Timothy Skyes, Jon Morrow, and John Chow who make millions every year. Of course, you may not be interested in the money; perhaps you have some passion projects you'd prefer to use blogs for, you'd still need to understand how it works.
And, to excel at it, you need the right training and the right resources. This post takes you on a buyer's journey regardless of whether you need an office or a travel laptop. All of our tips are drawn from experience. We discuss various options, from laptops for writers to those with more sophisticated systems. We look into the details such as RAM, a backlit keyboard, displays, and more.
We've explored the criteria that'll guide you through the world of laptops for bloggers, suitable for photo editing, writing, and more. We've also shared the highlights of 5 great models you could choose from. Whether you're on a budget or can afford a high-end laptop, there's something for you. Whether it's an office or a travel laptop, we've got you covered.
Additionally, you can click here for more.